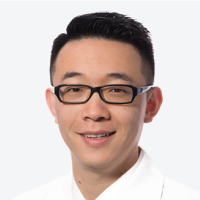 Dr. Ray Ma is an experienced periodontal and dental implant surgeon who is very dedicated to his profession. He utilizes the most current technology and most up-to-date innovations in providing care to his patients. A fourth-generation dentist raised in his family's private practice, Dr. Ma excelled in his education, achieving his Doctor of Dental medicine (DMD) from Tufts University in Boston. Previously educated at State University of New York in Albany, he received his Bachelor of Science in chemistry with Summa Cum Laude and graduated as class valedictorian. Dr Ma completed his post-doctoral training in periodontics at Stony Brook University in New York, where he was bestowed the Certificate of Advanced Graduate Study in periodontology.
Educator
Demonstrating his commitment to advancing the clinical science of dental medicine, Dr. Ma currently is a member as well as co-director of the prestigious Fairfield County Dental Club, the premier continuing education facility for dentists in Connecticut. He also serves as director of the Fairfield County Hygiene Club, providing dental hygienists an opportunity to advance their clinical skills and knowledge.
As a passionate educator, Dr. Ma previously served as a clinical instructor at Stony Brook University School of Dental Medicine, teaching assistant at Tufts University School of Dental medicine and instructor at Yankee Dental Congress continuing education course "Non-Surgical Periodontal Therapy."
Dr. Ma has made it his personal mission to educate and guide patients through co-diagnosis, co-treatment planning and important decisions regarding their treatment and care. Dr. Ma's core beliefs are congruent with his patient care. He provides individualized treatment based upon patient education. Patient education comes first! He believes that as a practitioner, his first mission is to inform the patient of their options so that they can make the best decision for their own care. He provides treatment in a knowledgeable, caring, comfortable, and (most importantly) pain-free setting. Dr. Ma is currently living in Norwalk with his wife and two boys. He enjoys Japanese and Italian cuisine, movies and traveling.
Dr. Ma is a member of the following organizations: